CROWN & BRIDGE WORK (PROSTHESIS)
There are two categories of prosthesis Removal & Fixed. We are providing both these types. Fixed prosthesis may be single unit or multiple units. Single unit is known as jacket or cap or crown. Multiple units are familiar as bridge. Crown & bridge made of many materials so quality obviously vary from one to another. We have been using following materials for making a crown or bridge.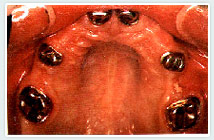 Many teeth missing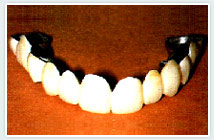 Bridge or fixed prosthesis
Acrylic Bridge
Metal Bridge.
Metal-Ceramic Bridge
Ceramic Bridge
Zirconium Bridge
Titanium Implant Supported Bridge
CAM (Computer Aided Manufacture) BridgeWe also provide rigid acrylic removal denture, flexible denture & cast denture.

Before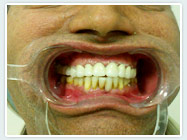 After